What is Conflict account :
A conflicting account exists if a user created a personal Google Account with the same email address as a Google for Work account managed by your organization. Conflicting accounts most commonly occur if your users signed in to Picasa Web Albums, Blogger, or other Google services, before your organization signed up for Google for Work services.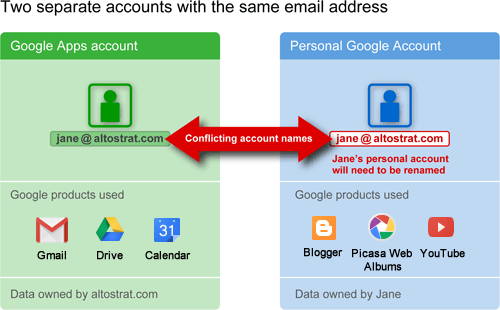 How to Resolve :
If you've already created the user's Google Account, the next time that user signs in to a consumer product, they'll be asked to change their account. For example, if jane@mydomain.com has a conflicting account with your organization, Jane would see these options when she signs into a consumer product:
Change to an account with a Gmail address (jane@gmail.com or another available Gmail name).
Change to an account with a different email address (uses her jane@yahoo.com address).
Sign in with a temporary username Google provides (jane%mydomain@gtempaccount.com).
All conflicting accounts must be resolved. If a user chooses the last option, the user's account is automatically renamed to the temporary name that Google provides. The user is also prompted with these same options at sign-in time, until deciding on and selecting a permanent solution.
In all cases, the data in the user's personal accounts remains safe and accessible to them.
Renaming personal account will resolve issue Users have full control over the renaming process; administrators don't participate in this process.